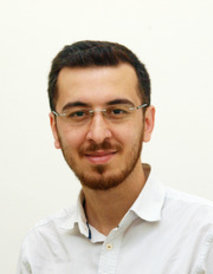 Dr. med. Ömer Faruk Öztürk
Resident Physician - Residency/PhD Programme
Main Focus
I have started my residency at the Department of Psychiatry and Psychotherapy of the Ludwig-Maximilians-University in June 2017 and I am a developing clinician-scientist, who wishes to translate his clinical and research experiences into the improvement of patients' mental health and quality of life with this prestigious fellowship by the Else Kröner-Fresenius Foundation. 
The academic and clinical qualifications through this Residency/PhD track, I would not only like to seek the brain plasticity and connectivity changes in health and disease but would also like to explore diagnostic and prognostic tools for debilitating mental disorders, in particular for schizophrenia. 
In this regard, I am currently interested in investigating the early neurological correlates of physio-pathological changes in the brain of young patients with depression, recent onset of psychosis and clinical high risk for developing psychosis. I am going to analyze the structural connectivity changes, first, with TBSS (Tract-Based Spatial Statistics) of DTI in and between middle cortical structures and then, I will investigate age and sex-dependent chronological tractographical differences between healthy brains and the brains that are developing a psychiatric disease. Second, I am going to investigate inter and intra functional connectivity changes in middle cortical structures as potential biomarkers and neurobiological correlates of evolving physio-pathological changes in brains of young patients, who are developing debilitating psychiatric disorders, in particular, psychosis and depression. I am also eager to learn different machine learning methods that are intensively used in our research group, and that will hopefully let me contribute to the field of predictive, personalized and preventive psychiatry.