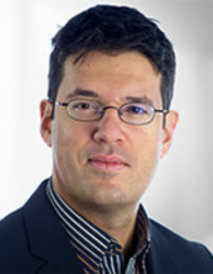 Prof. Dr. Nikolaos Koutsouleris
Research Group Leader, Max Planck Fellow Group for Precision, MPI of Psychiatry
Senior Physician, Department of Psychiatry and Psychotherapy, LMU Munich
Main Focus
My research aims at extracting predictive information from diverse neurobiological, neurocognitive and clinical data for an improved early recognition of functional psychoses. For this purpose, I have conducted cross-sectional and longitudinal studies of people at an increased risk of developing these illnesses and examined them with structural MRI, neuropsychological testing and clinical evaluations. Using advanced machine learning methods, I was able to identify and cross-validate MRI and neurocognitive biomarkers allowing for a single-subject prediction of psychoses.
As the head of The  Early Psychosis Studies and of the Workgroup for Neurodiagnostic Applications, I am striving to implement predictive models that (1) enable an effective personalized management of high-risk individuals across different centers and healthcare settings, (2) facilitate the individualized stratification of risk for disease onset, chronicity and poor functional outcomes across different psychiatric disorders, and (3) improve our understanding of the diagnostic boundaries between and within these disease entities based on multivariate subgroup identification methods.
Equally importantly, I train new investigators at the pre- and post-doctoral levels to comprehensively analyze complex, high-dimensional data using multivariate analysis methods.
Offering PhD positions in 2024: Yes.